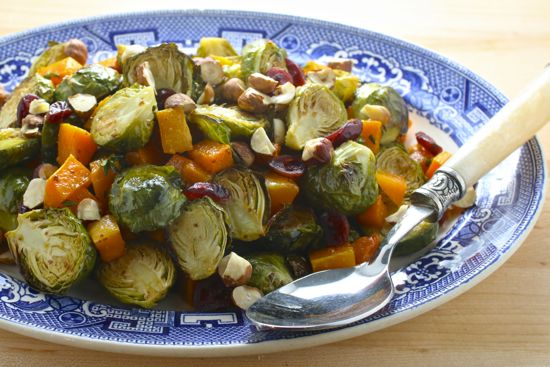 The Thanksgiving countdown has begun.
Right now, we're still deciding the menu.
There's no question a large bird will take place of honor at the center of the table. After years of experimenting, I've finally determined that a free range turkey, roasted simply,  beats all elaborate preparations hands down.
The big decision is what to serve with all that protein.  Every year, I like to introduce something new just to mix things up.
Family tradition dictates so much of the feast that side dishes are among the few places where the cook can introduce a fresh perspective.  If one of the guests doesn't care for fennel or parsnips or chestnuts, it's not a disaster.  There will be plenty of other dishes on the table to choose among.
This year, I've been trying out variations on Brussels sprouts, which are at their best in the fall.  There was a time when I turned up my nose at these miniature cabbages, but that was before I learned to roast them: The high heat of the oven caramelizes the residual sugars in the sprouts and mellows their flavor.
Now I can't get enough of them.
Since Thanksgiving calls for a festive dish, I decided to turn the roasted sprouts into a salad that could be served warm or at room temperature. Mild, sweet butternut squash offer a contrast in texture as well as a shot of color.  Dried cranberries contribute a bright counterpoint and toasted hazelnuts deliver crunch. To bring everything together, there's a vinaigrette with a hint of maple and mustard.
The beauty of this dish is that you can make it ahead and allow the flavors to marry while you handle all the last minute details of the banquet.  It just gets better as it waits.
As a bonus, this is one Thanksgiving dish that you can eat with abandon and not a trace of guilt.  Vegetarians  will love it, too.
Next up: A new take on mashed potatoes
BRUSSELS SPROUT SALAD WITH HARVEST FLAVORS
Serves 8
2 pounds small Brussels sprouts, trimmed and halved
1 pound butternut squash, cut into 1/2-inch cubes
1/2 cup plus 1 tablespoon extra virgin olive oil, divided use
Salt and freshly ground black pepper to taste
1 teaspoon fresh thyme leaves, chopped
2 tablespoons maple syrup, preferably Grade B
1 tablespoon Dijon stone-ground mustard
2 tablespoons apple cider vinegar
1/4 cup dried cranberries, soaked in hot water for 10 minutes and drained
1/2 cup hazelnuts, toasted and coarsely chopped
Preheat oven to 400 degrees and line two large, rimmed baking sheets with foil.
Place Brussels sprouts in a single layer on one of the baking sheets and drizzle with 2 tablespoons of the olive oil.  Toss sprouts to coat evenly with oil and set aside.  Place cut up butternut squash in a single layer on the other baking sheet and drizzle with 1 tablespoon of olive oil.   Toss cubes to coat evenly with oil.  Season sprouts and butternut squash cubes with salt and pepper to taste and sprinkle with thyme.
Roast the sprouts and butternut squash cubes for about 30 minutes, until they begin to brown and can be pierced easily with a small, sharp knife.  They may take different times to cook and the butternut squash should be fairly soft but hold it's shape.
While the vegetables are roasting, whisk together the remaining oil, maple syrup, mustard and vinegar in a small bowl.  Set aside.
When vegetables are done, scrape them into a large bowl and dress with about half of the maple and mustard vinaigrette. Toss well.  Sprinkle with dried cranberries and chopped nuts and toss again.  Add as much of the remaining dressing as needed to coat all the vegetables and adjust the levels of salt and pepper to suit your taste. Toss one more time.
Let salad stand at least 20 minutes for the flavors to marry before serving.  Salad can be made a day ahead and stored in the refrigerator, too.  In that case, remove it from the fridge at least an hour before serving to allow it to come back to room temperature.
Aleta Watson