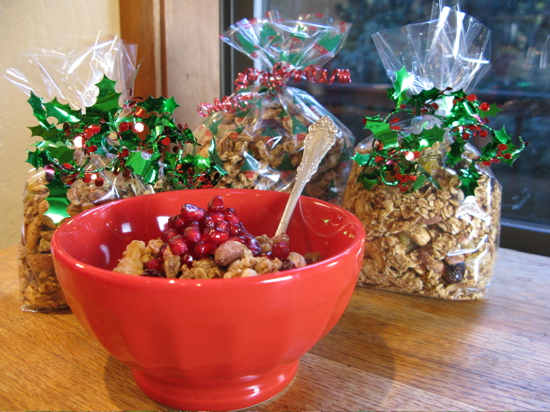 A lot of us are going to be spending more time in the kitchen than at the mall this holiday season. As far as I'm concerned, that's a silver lining to the mess our economy is in.
Homemade food makes a great gift in good times or in bad. It's personal, thoughtful and always in style. You never have to worry about size, duplication or the clutter factor. What isn't eaten right away usually can be frozen or stashed in the pantry for later enjoyment.
Cookies and candy are classics. But if you want your gifts to stand out, you need to come up with something a little different. That's why I'm giving granola this year.
I know, it sounds like a flashback to the 70s. Yet you can argue that it's the perfect breakfast food for the 21st century, with the current nutritional emphasis on whole grains and nuts.
This homemade granola bears little relation to those disappointing mishmashes of grains, seeds, corn syrup and oil found on supermarket shelves. It's made fresh with whole cashews, almonds, and tangy dried cherries. Dark maple syrup contributes a delicate sweetness. It's elegant, healthful and downright addictive.
I began making granola as an inducement to get myself to eat a better breakfast than my usual morning toast and tea. Cereal is convenient but I can't stand it when it gets soggy. What I wanted was crunch and granola was the answer. Sprinkled over thick, Greek-style yogurt with fresh fruit, it was the tasty but nutritious breakfast I required — as long as it wasn't hijacked by unconscionable levels of sugar and fat. The only way to control that was to make it myself.
I tried several recipes and finally settled on one I ran across in a Martha Stewart Living magazine a year or so ago. The results were so good that my son consistently demolished a batch within days every time he came home. House guests adored it. And I've yet to tire of it even though I'm not the sort of person to eat the same thing every day.
The secret is a simple blend of top shelf ingredients that allows the individual flavors to shine through. I've tweaked the recipe for a more sophisticated taste, substituting flavorful, dark Grade B maple syrup for the brown rice syrup and brown sugar. To get more texture, I use big flakes of unsweetened coconut in place of the shredded coconut originally specified. I've also increased the proportion of dried fruit.
This granola is easy to make. All the dry ingredients except the raisins and cherries are stirred into a thin, warm mixture of maple syrup, spices, butter and water. Then the wet ingredients are spread on two rimmed cookie sheets lined with parchment paper and baked at a very low temperature for an hour and a half, until golden brown. I turn off the oven, prop the door open slightly with a wooden spoon, and allow the mixture to cool slowly and continue to for dry several hours or overnight to get even more crunch.
Stir in the dried fruit and spoon granola into gift bags or canning jars for a memorable gift.
SIX MILE GRANOLA
Makes about 12 cups
4½ cups rolled oats
½ cup wheat germ
½ cup wheat bran
1 cup raw cashews
1 cup raw almonds
1½ cups unsweetened coconut flakes
3 tablespoons unsalted butter
1 cup Grade B maple syrup
2 teaspoons pure vanilla extract
1½ teaspoons kosher salt
½ teaspoon ground cinnamon
1 cup water
1 cup golden raisins
1 cup dried sour cherries
Preheat oven to 225 degrees. Line two large, rimmed cookie sheets with parchment paper. Mix oats, wheat germ, bran, cashews, almonds and coconut flakes in a large bowl.
In a large soup pot, melt butter over medium low heat. Stir in maple syrup, vanilla, salt, cinnamon and water. Add dry mixture from the large bowl and stir until well-blended.
Spread mixture evenly over the two cookie sheets and bake, stirring every 30 minutes to prevent burning, for about 1½ to 2 hours, until golden brown. Turn off oven, prop open door an inch or so with a large wooden spoon, and allow granola to cool slowly for a couple of hours or overnight.
Transfer granola to a large bowl or container and stir in raisins and cherries. Store in an airtight container for up to three weeks. (It rarely lasts that long).
Adapted from "Martha Stewart Living"