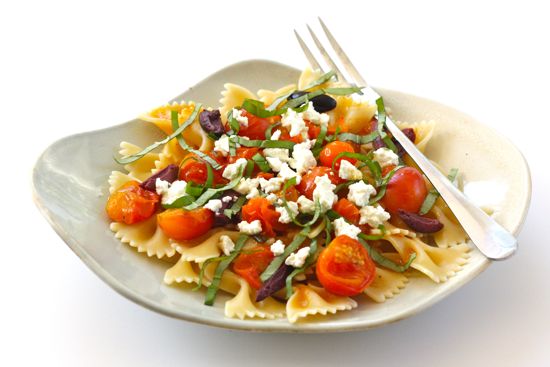 The big slicing tomatoes and medium salad varieties are slowing down in our planter boxes by the curb, but the cherry tomatoes continue to run riot.
The Sungold vines have enveloped the other varieties in their box and the little orange orbs festoon the plants like Christmas lights.  The larger Isis are a little less vigorous but a dozen or so ripen every day in beautiful colors that blend from red to pink and yellow.
We eat them in salads, pop them into our mouths as snacks while we work in the garden, give them away to anyone who will take them and still we can't keep up.
Hoping to get ahead of the crop, I've started roasting the cherries slowly in the oven with garlic cloves, olive oil and basil to make a pasta sauce with surprisingly intense flavor and brilliant color.  Tossed with farfalle pasta and some salty kalamata olives and feta cheese to balance out the natural sugars, it makes a memorable lunch or dinner with very little work.
This is barely a recipe.  I offer some suggested quantities here but feel free to wing it. I often make a double batch.
It should take only a few minutes to put together the sauce ingredients and shove them in a 300 degree oven.  In about an hour, the tomatoes will start to collapse and release their juices for a light sauce.  Use it right away or stash it in the fridge for later.
I first made this with the idea of a hot pasta dish, and it was the ideal summer supper—light, refreshing and loaded with vivid Mediterranean taste.  But the leftovers also were great the next day as a cold pasta salad.
ROASTED CHERRY TOMATO PASTA
Makes about 3 cups
2 pint baskets of mixed cherry tomatoes
4 cloves garlic, or more to taste
1/4 cup extra virgin olive oil
About 1/2 cup fresh basil leaves, sliced crosswise into slender ribbons
Salt and freshly ground black pepper to taste
1 pound farfalle (bow tie) pasta
1/2 cup kalamata olives, halved lengthwise
8 ounces feta cheese, crumbled
Preheat oven to 300 degrees.  Wash and stem cherry tomatoes, cutting the larger ones in half to get a roughly uniform size.  Place in a 1 quart baking dish in a single layer.
Slice garlic into thick slivers and toss with tomatoes.  Drizzle olive oil over all, sprinkle with a couple tablespoons of basil, season with salt and pepper, and stir a couple of times to mix.
Slide baking dish into the oven and roast for about an hour, stirring occasionally, until the tomatoes are starting to collapse and release their juices.
Meanwhile, bring a large pot of liberally salted water to boil and cook the pasta until al dente. Drain and place in a large serving dish.
Remove sauce from the oven and spoon over the pasta.  Sprinkle olives and feta over the pasta and toss.  Garnish with the remaining basil and season with salt and pepper to taste.
Serve hot or cold.
Aleta Watson