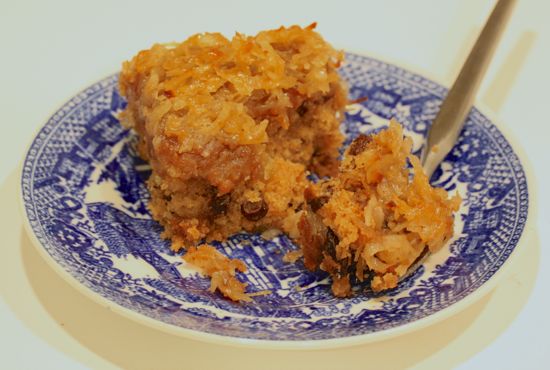 From its beginnings a little more than five years ago, The Skillet Chronicles has been great fun.  For a veteran food journalist used to working in collaboration on assignments, it has been exhilarating to connect directly with readers and write about whatever fascinated me at the moment.  I learned so much along the way, exploring unfamiliar produce and expanding my culinary chops.  The best part was hearing from you, dear readers, about recipes that delighted you and nourished your families.
Now, I'm afraid I need to take a sabbatical for at least a couple of months.  Some health issues require me to focus my attention elsewhere.
But I didn't want to take my leave before I shared with you this simple snack cake recipe I've been fiddling with for nearly a year.
My mother used to make this Depression-era treat, which she called Hobo Cake, on the spur of the moment.  The ingredients always could be found in her pantry. It made a terrific little cake with rich flavor, great texture, and an irresistible broiled coconut topping. It didn't even require a mixer.
I had the recipe, handwritten on note paper, stashed away in my files for years. Then my mother was gone and the recipe vanished.   I searched my files now and then, hoping it had slipped behind another recipe or had been stashed in the wrong category. But I never found it again.
Last winter I decided that the recipe surely would show up somewhere on the Internet if I just dug deeply.  Though I eventually found a number of Hobo and Hillbilly cakes in obscure cooking forums, none of them was quite right.  Too many started with cake mixes and the frosting, my favorite part, always missed the mark.
The big breakthrough came when I decided to check out my mother's old 1945 edition of  "Better Homes and Garden Cook Book," tucked away on a bookshelf with several later editions.  I might page through them now and again for sentimental reasons,  but I never used them.
Right there at the top of Chapter F, Page 21 was the recipe for broiled coconut frosting that I had been looking for.  It called for cream rather than the sweetened condensed milk in my mother's original recipe, but I could tell immediately that it would be perfect.
So, here it is, my mother's Hobo Cake revived.  It may be humble in origin, but it still tastes as great as it did so many years ago. It would be a shame to lose such a wonderful old recipe.
HOBO CAKE
Serves 9
For the cake:
2 cups unbleached, all-purpose flour
1 teaspoon baking soda
1 cup chopped walnuts
1 cup raisins
1 cup water
1 cup sugar
1/2 cup butter or margarine
1 teaspoon cinnamon
1/2 teaspoon allspice
1/4 teaspoon nutmeg
For the frosting:
6 tablespoons melted butter
2/3 cup brown sugar
1/4 cup heavy cream
1 cup moist, shredded coconut
1/2 teaspoon vanilla
Preheat oven to 350 degrees.  Butter a 9-inch square baking pan. Stir together flour, soda, and walnuts in a small bowl.
In a medium saucepan, combine raisins, water, sugar, butter and spices.   Bring to a boil, then let cool for 5-10 minutes.  Stir in flour and walnut mixture with a wooden spoon just until all the flour disappears into the batter.  Scrape batter into prepared baking pan and smooth the top. Bake for about 25 minutes, until a small, sharp knife comes out clean when inserted into the center of the cake.
Just before the cake is done, stir together the melted butter, brown sugar, cream, coconut and vanilla in a small saucepan until sugar melts and ingredients are thoroughly blended.
Switch oven temperature to broil.  Spread frosting mixture evenly over top of warm cake and slide under broiler, watching carefully so the topping browns nicely but does not burn.
Serve warm or at room temperature.
Evelyn Polk's recipe as adapted by Aleta Watson